Dear VQ Investors,
From the staggering drop in equity amounting to 40% in just a months time back in March, to a recovery to all-time high levels, 2020 has been the year of the volatility and unpredictability. In the context of financial markets, historical significance, and lessons it taught us this year, 2020 is right up there with 1929 and 2008.
It is time for an honest mark-to-market in 2020. A moment to look back and reflect.
2020: The year of reflection
In March 2020, the world came to a stand-still. But we strongly believed that if we stayed true to our process, if we focused on building our conviction in the investee companies, if we focused on watering our flowers and weeding out the dead wood, and if we focused on staying in the game long enough, then our efforts would be rewarded.
What does not kill you only makes you stronger is an adage that applies well here. That is exactly how our portfolio displayed resilience, and now, it is thriving in the much-improved investment scenario.
2020: The year of resilience
We had to be resilient over the past 10 months. Amongst the uncertainty and market volatility, compounded by the global economy that plunged into deep recession, it was imperative that we stood our ground and rode out the storm.
The performance of our portfolio affirms our notion. After being resilient, it is now thriving in today' investment scenario
2020: The year of re-awakening
As the pandemic struck, we decided to focus on rejuvenating the portfolio with stocks that would drive returns in the changed world.
Chemicals & Pharma were identified as the sectors that would benefit from the distrust towards China, as the world looks for alternatives. Agriculture & Rural economy were identified as segments of the economy that would bounce back the fastest. Technology & Telecom were identified as the sectors that would thrive in this new, digitally driven world.
2020: The year of developing perspectives
The Indian economy has been in repair-mode for a major part of the last decade. Indian corporates have been in de-leveraging mode, and corporate profits to GDP has been at a decadal low. Having this perspective tells us that what happened in March was a culmination of all that was bad; it precipitated what was predestined in a shorter time frame. Once you have the confidence to say that we have reached the point of maximum pessimism, it becomes imperative that we turn positive. Subsequent earnings of corporates in Q1 FY21 and Q2 FY21 are a testament to the fact that now the analysts are behind the curve in terms of earnings. This is the first time in the past 7 years or so that there have been more earnings upgrades than downgrades in our universe of stocks.
Point of Maximum Pessimism
March 2020 was the point of maximum pessimism as one by one we gave up on govt policies, market returns, portfolios, businesses and even life. That is when the seeds of new bull market are sown.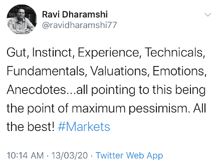 2020: The year when a new bull market was born
Bull Markets are born in pessimism, grow in skepticism, mature on optimism, and die on Euphoria. We strongly believe that we are still moving from the pessimism phase to skepticism phase and we are no where close to the Euphoria that some would believe.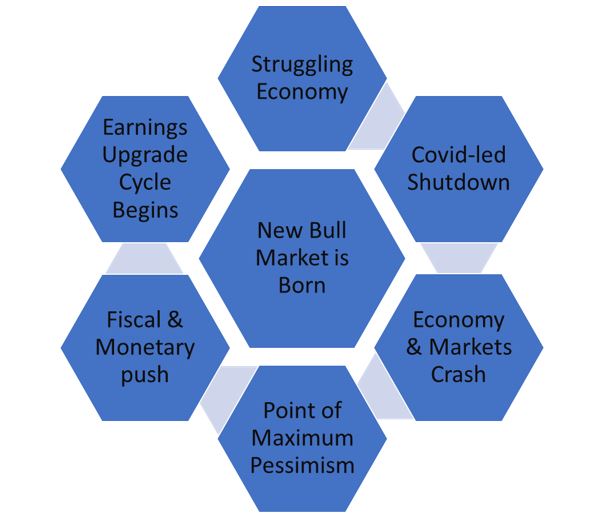 Here's wishing you the best of health, wealth and peace of mind that life has to offer in 2021 and beyond.
Thank you.
ValueQuest
Disclaimer, Disclosures & Important notices:
This document prepared by ValueQuest Investment Advisors Ltd, is meant for the sole use of the recipient and not for public circulation. This document should not be reported or copied or made available to others, either in part or full. The information contained herein is obtained based on internal data and publicly available information and other sources believed to be reliable.
ValueQuest does not claim or warrant the accuracy, correctness or completeness of the data mentioned herein. As such, this document should not be relied upon for any purposes including investments in any security. This document is for personal information only and does not constitute an offer, invitation, or inducement to invest in any security whatsoever. ValueQuest or any of its employees are under no obligation to update the information contained in this document. As permitted by SEBI regulation, ValueQuest and its affiliates, associates, officers, directors, and employees, including persons involved in preparation of this document may: (a) from time to time have a long or short position, or buy or sell, any of the securities of any company mentioned herein or otherwise; or (b) be engaged in any other transaction involving such securities. Performance related information provided in this document is not verified by SEBI. Past performance is not a guide for future performance. Investment in equities involves substantial risk including permanent loss of capital (in whole or in part) and hence may not be suitable for all investors. The statements contained herein may include statements of future expectations and other forward-­‐looking statements that are based on our current views and assumptions and involve known and unknown risks and uncertainties that could cause actual results, performance, or events to differ materially from those expressed or implied in such statements. Readers shall be fully responsible / liable for any decision taken based on this presentation. Readers should before investing make their own investigation and seek appropriate professional advice. Investments in Securities are subject to market and other risks and there is no assurance or guarantee that the objectives of any of the strategies of the Portfolio Management Services will be achieved. Clients under Portfolio Management Services are not being offered any guaranteed/assured returns.
The distribution of this document in certain jurisdictions may be restricted by law, and persons in whose possession this document comes, should inform themselves about and observe any such restrictions.