By Sameer Shah and Ritika Agarwal
The pandemic has been one of the most scarring periods in living memory. Through this unfortunate devastation, if there is one key takeaway, it is that hope begins at home. More than ever before, a home is not just a physical space, it is a feeling. A home is sacred. It is where the strongest human bonds are created. The pandemic has taught us that the three phases of a fulfilling life – learning, earning, and returning can be done from home.

– Chairman's Letter – HDFC Limited AR 2021
Indian real estate had a massive upcycle in the 2000s which lasted for almost a decade. The next steps were predictable, greedy developers leveraged themselves and launched more than the market could absorb. The massive supply combined with lack of transparency resulted in a lot of pain not only for the developers but also for the economy, banks as well as consumers.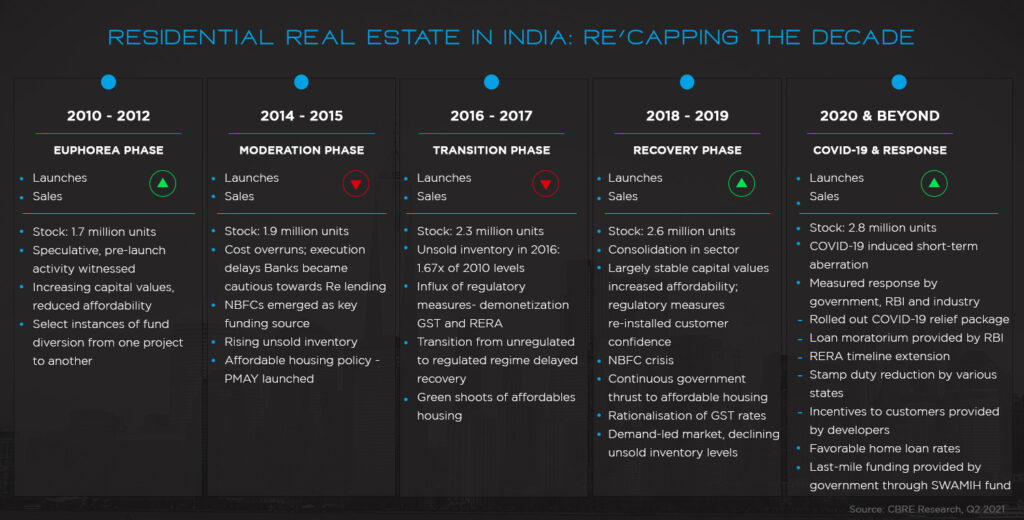 Apart from correcting the excesses of earlier cycle, real estate players had to deal with extenuating circumstances like implementation of demonetization, GST, NBFC crisis and acclimatization of a new regulatory in the form of RERA & finally the decade ended with Covid linked disruption. Sales which peaked at ~4.35 lac units have stabilized around 3 lac units p.a. for last few years.

Prediction is difficult. Particularly when it involves the future – Mark Twain
When covid struck, the discussion was centered around how real estate will be worst affected – job losses, restrictions on construction, worker migration, high ticket purchases will be postponed, etc. Last one year however has turned out to be anything but that. Aided by a variety of factors which we try to analyze in this blog, real estate demand has surprised everyone. This has especially benefited large organized players. Footfalls have improved materially and transactions are happening at a brisk pace. And the segment that has surprised the most is the luxury segment. Take for example DLF's super luxury project – Camellias. In the last 4 years, they were selling on an average 10 units, which has jumped to 36 units in FY21. The extent of surprise in demand is demonstrated in how analyst estimates for FY21 and FY22 has moved.

Sceptics initially believed this was just pent up demand but the sentiment is slowly turning more optimistic. Foundation has been laid for a sustained revival of residential real estate.
Recent numbers from Mumbai registration data for Aug- 2021 (first month after stamp duty was reinstated to 5%) reflects strong demand momentum. The month of August witnessed property registration of 6,784 units for Mumbai City, ~16% higher than 5,873 units registered in Aug-2019 and 2.5x of Aug-2020 sales of 2,642 units. (Source: Knight Frank).
Interesting points from Consumer Survey by Anarock
– Pricing and developer credibility are the two most important factors while buying a property followed by design and location.
– Prevailing lowest-best home loan rates has been a major factor driving home property sales despite the pandemic.
– 71% property seekers are looking to buy for self-use vs 59% pre-Covid period.
– 46% preferred ready-to-move-in properties pre covid which has decline to 32% post Covid. This could be led by the fact that most of the new supply is dominated by branded developers and there is limited inventory available in the ready category.
– 25% looking to buy properties priced Rs.0.90 -1.15cr post covid vs 16% pre covid while 27% were looking to buy properties priced >45 lacs post Covid vs 36% pre-Covid. Affordable housing buyers have been severely hit economically by the pandemic.
– 32% are looking to buy second homes while 41% are mulling over it for self-use.
Let us look at the key factors driving sector revival.
Factor#1: Affordability has never been better
For the consumers, the affordability for the middle-class customer to buy a home is good at present. Never before in my career of 14 years, there has been such an opportunity in which the interest rates were these low, the real estate price rise average has not changed in the last six years, people salaries have increased, so to buy the same home the EMI to income ratio is at an all-time low for a particular house. I see, the consumers not only buying houses but buying bigger houses and our average size is increasing. I feel, the consumer sentiment in residential real estate will continue to be positive.

– Varun Gupta CEO – Ashiana Housing
India has never seen such low interest rates…. EVER. Salary growth, decline in property prices and decline in interest rates has resulted in best affordability in three decades. Such convergence of rental yield vs interest rates must result in improved demand.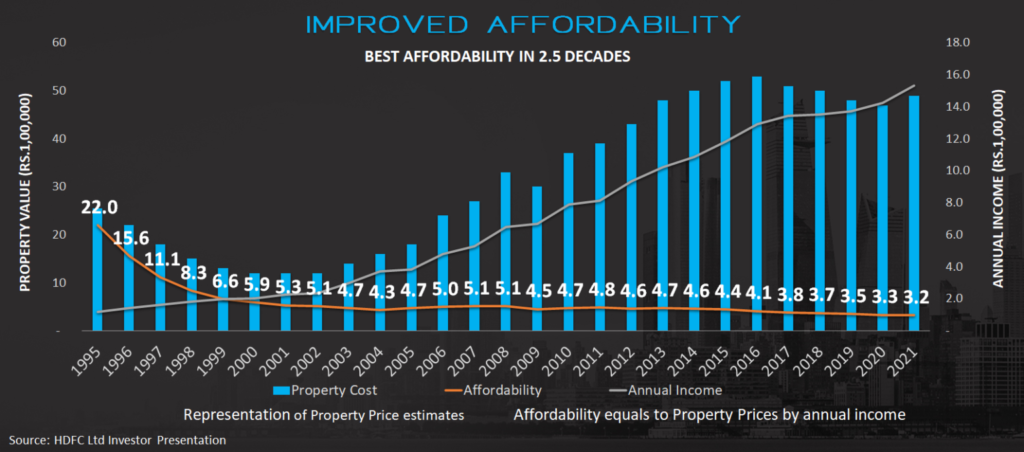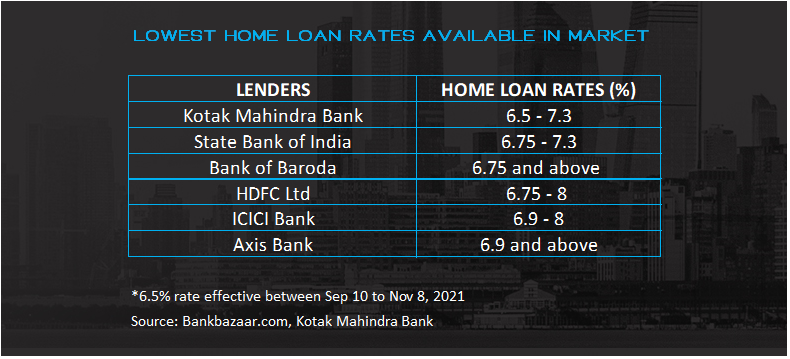 Factor #2 – Supply Consolidation
Name any industry and more likely than not you will find that the three strongest, most efficient companies control 70 to 90 percent of the market.

– Prof Jagdish Bhagwati – Rule of Three
Structural reforms in the last few years started the process of weeding out smaller, unorganized developers from the market. The COVID-19 pandemic was the final nail in the coffin as it tilted the scale further in favor of established developers. The extent of supply shock can be seen from the drastic reduction in number of builders as seen from the data below.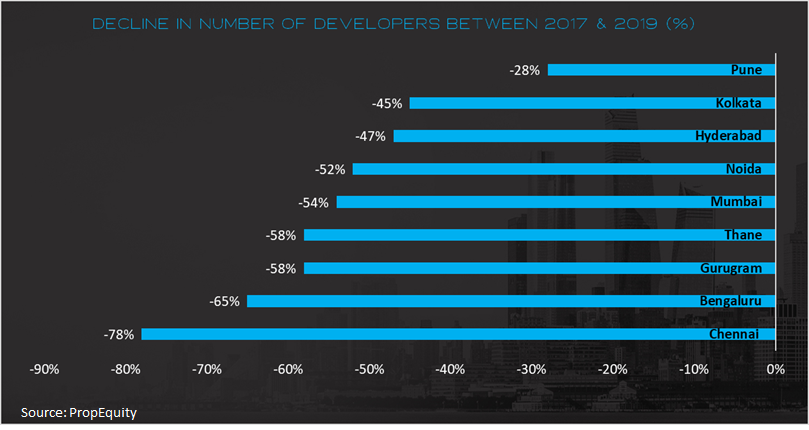 Buyers are unwilling to take any risks and their preferences are gravitating towards recognized builders, better quality, closer to completion projects.
In FY21, ~25% of sales come from ready to move in (RTM) projects vs ~10% in FY13, while RTM projects comprise of just 15% of the total unsold inventory (Source: Propequity). There is an increased preference and willingness to pay a premium for projects by developers with an established track record. This tilts the balance firmly in favour of large developers who have gained substantial market share over this period of uncertainty and slowdown.'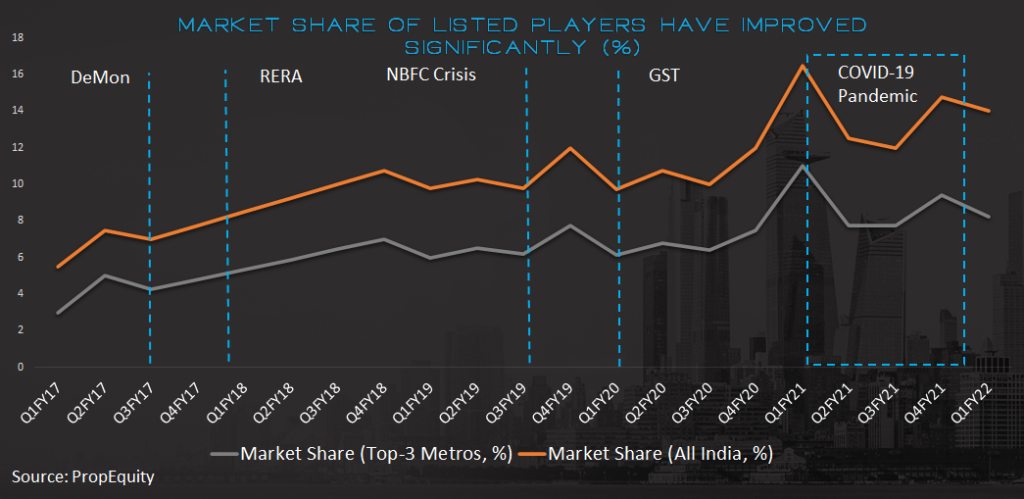 In last few years, demand has matched or even outpaced supply leading to inventory reduction. Some of this unsold inventory will remain stuck due to developer issues, hence actual inventory overhang is even lower than what is demonstrated in table below.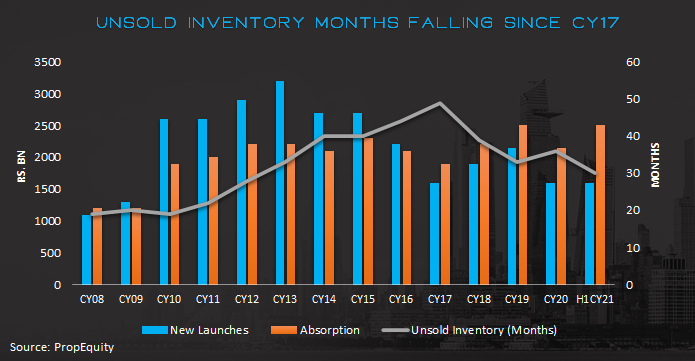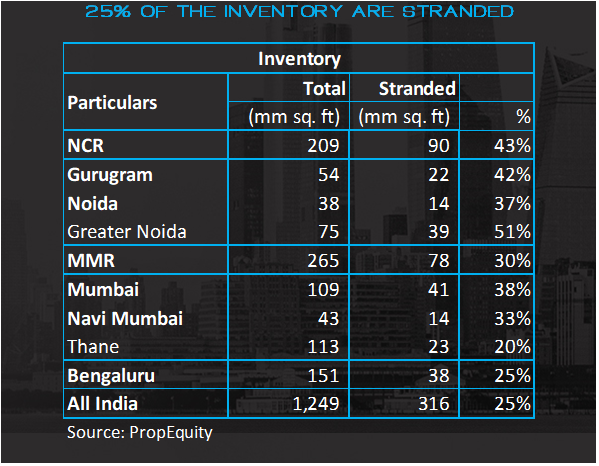 Factor #3 – Improved outlook for jobs and wages
Someone aptly commented – IT industry hiring scenario at present: "Trespassers will be recruited"
We have doubled down on increasing intake from campuses across the world as well as re-skilling our existing workforce. We will onboard 33% more freshers in FY '22, as does the previous year. We also intend to onboard 6,000 freshers in Q2 itself. Growth is our priority, and we will ensure that talent supply is not a constraint to our ambition. In the short term, we will experience some inflationary pressure in people cost. We've announced a salary hike for 80% of our employees, effective September 1st, the second hike in this calendar year.

– Thierry Delaporte, CEO and MD, Wipro in Q1FY22 conference call
After initial rationalization of salaries during lockdown shock, most corporates have reinstated and even increased staff salaries. IT sector stands out. A look at the hiring commentary of IT companies clearly shows that it has been difficult for companies to retain talent and some companies have given two hikes in a year to mitigate attrition. This is also the year of unicorns with as many as 50 companies expected to become unicorns in 2021. Net hiring will hit a record this year and outlook has never been better.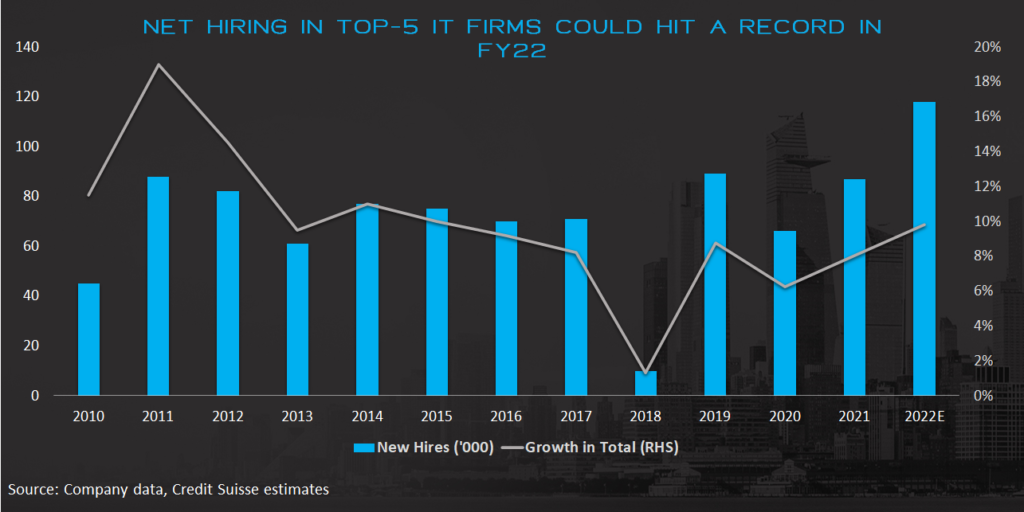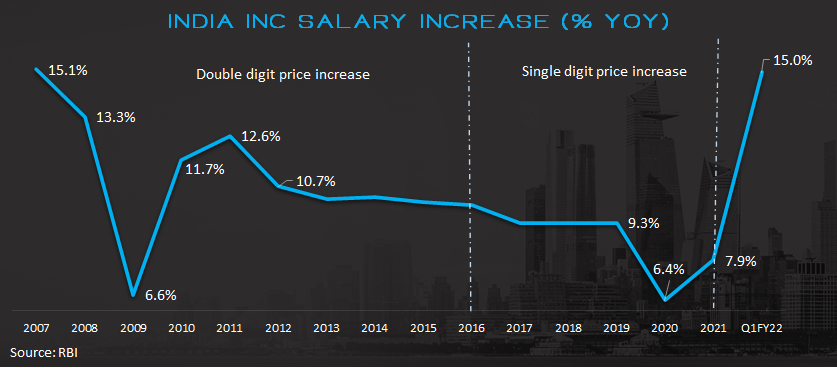 Wage hikes are not restricted to IT sector alone. Many large industries are experiencing tailwinds and are raising salaries to reward and retain talent. Albeit on a lower base, Q1 FY22 numbers demonstrate the strong hiring/ salary trend across sectors. Real Estate is expected to be a key beneficiary of this.

Factor #4 – Regulatory support
Anuj Puri, Chairman – ANAROCK Property Consultants in an interview in 2018 said "I think only disruption can save the day for the Indian real estate sector. Both because of the groundbreaking policy reforms now in place and the changing mind-set of real estate consumers, the old ways of doing business simply cannot prevail any longer. What is required are new ideas, new ways of conducting business, and a far greater focus on accountability and transparency than has been evidenced so far. "
Be it central government, state governments or RBI, regulatory framework for the sector has improved over the years. Over the years, there have been various steps to promote affordable housing.
Steps have been towards bringing more transparency, affordability, and funding. Recent relaxation of stamp duty added to the demand push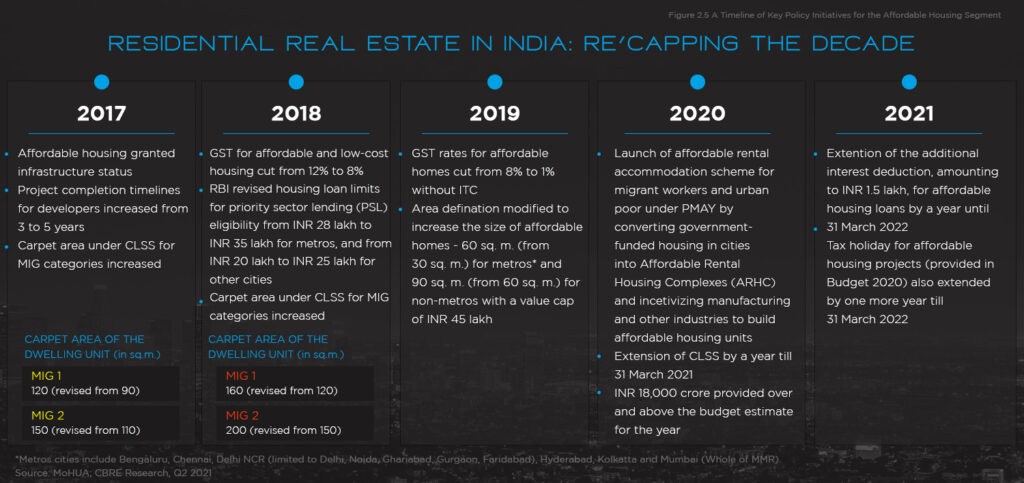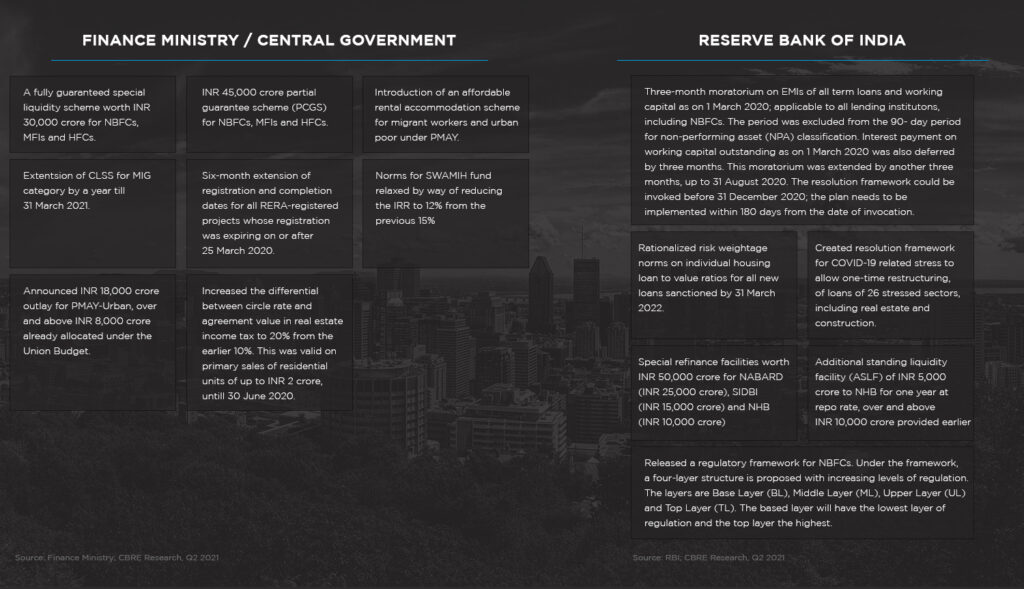 New regulatory processes encourage clean ownership, accountability, and faster execution, which augurs well for the businesses themselves and for the consumers. Here's a bucket list of regulatory actions which, if implemented, can change the trajectory of the industry.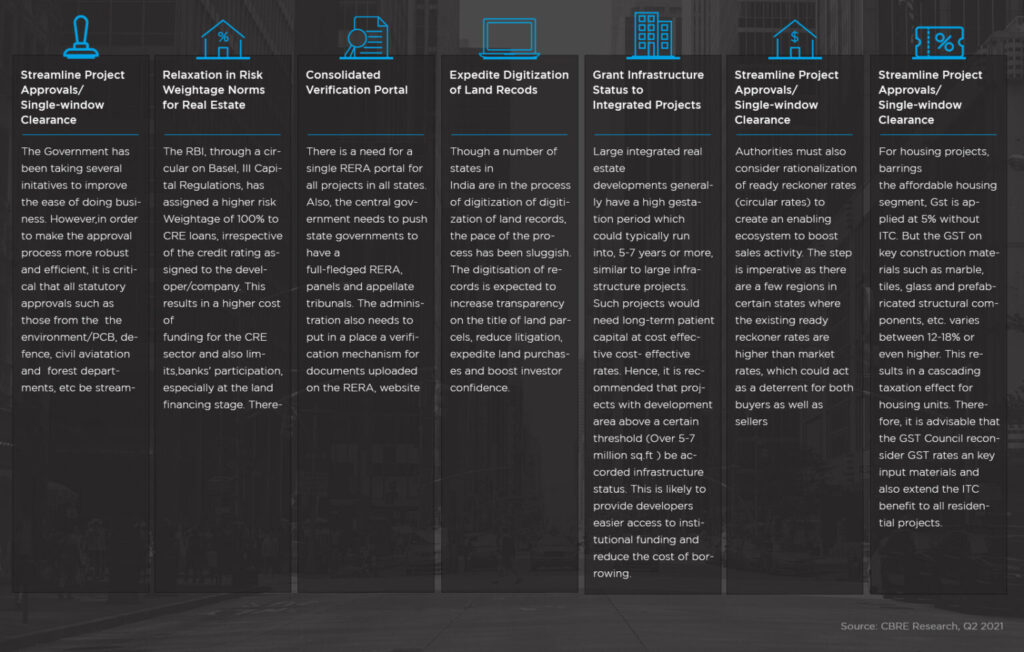 Factor #5 –Veblen Effect
"If you are a buyer, please quickly buy it because prices are likely to go up."

– Vikas Oberoi, Chairman & MD, Oberoi Realty in Q1FY22 conference call
The Veblen Effect is the positive impact of the price of a commodity on the quantity demanded of that commodity. It is named after American economist and sociologist Thorstein Veblen, who studied the phenomenon of conspicuous consumption in the late 19th century.
Real Estate qualifies here since the demand does increase with expectation of increase in prices. Customers are now convinced that prices will not go down further and have started to inch up. Developers understand this and have started playing to the psychology. We will see a lot more announcement of price increases by developers.
This is playing out in developed markets where the improved finances driven by stimulus has catalyzed a bull market in real estate. Price trends in US and UK are a demonstration of where the market is headed as economy improves.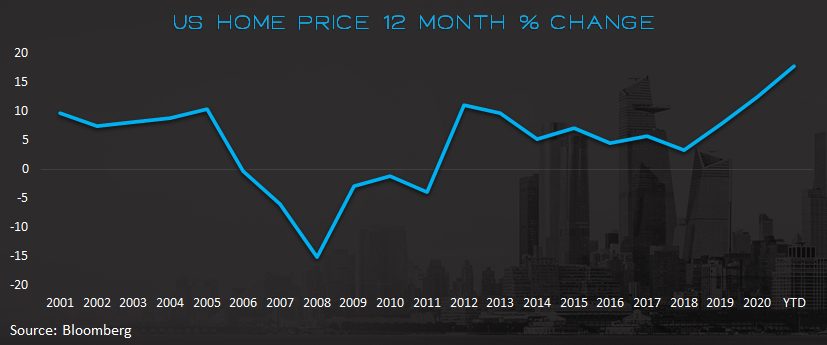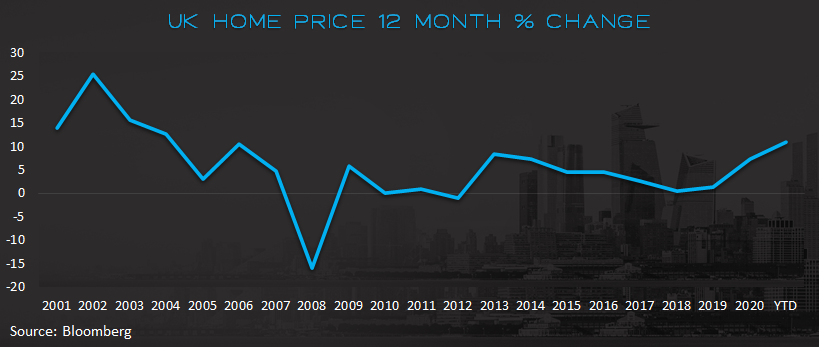 Business Models have changed
Large developers have moved away from the land banking model. In fact, developers now prefer JV/ JDA route to reduce the capital intensity for residential business. Focus is now on timely execution, quality, improving brand perception and most importantly sales velocity. Key to achieving reasonable IRR is the ability to sell the project quickly and be able to command some pricing due to quality. Focus of developers has shifted to
– Timely delivery to create brand loyalty and add-on services to build trust with customers
– Accelerate adoption of modern technology and construction techniques
– Embrace strong corporate governance and inculcate the ESG model
– Maintain financial discipline
– Diversify development portfolio; re-align portfolio with market dynamics and market cycles
– Invest in upgrading labour force skill sets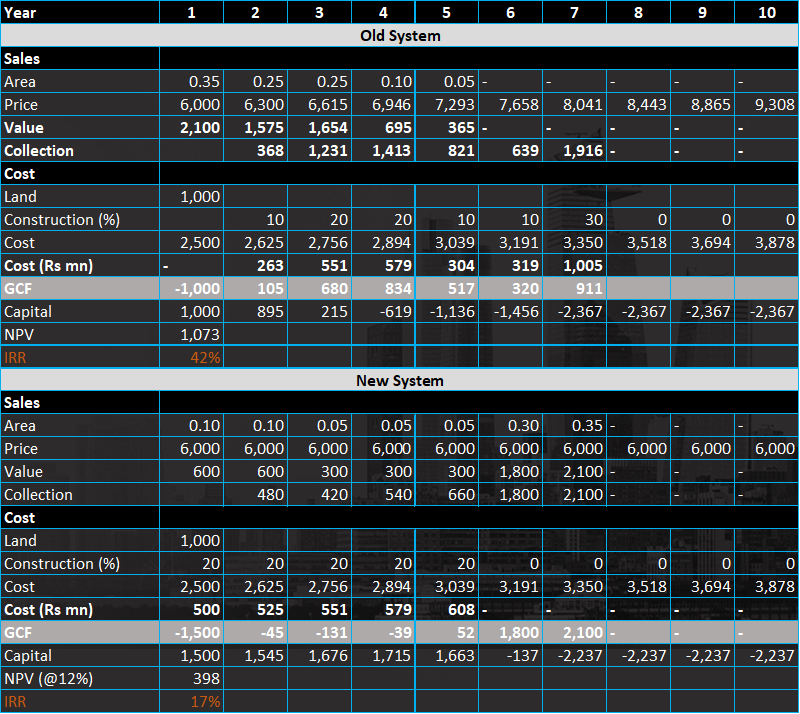 Earlier developers used to launch projects and later apply for approvals which led to elongated timelines for construction post launch. With RERA, developers can no longer launch projects without approvals and have wait for a minimum 6-12 months on an average to launch a project post purchasing a land parcel. Hence, time taken to launch a project post buying land has increased while construction timelines post launch has reduced drastically, as shown below –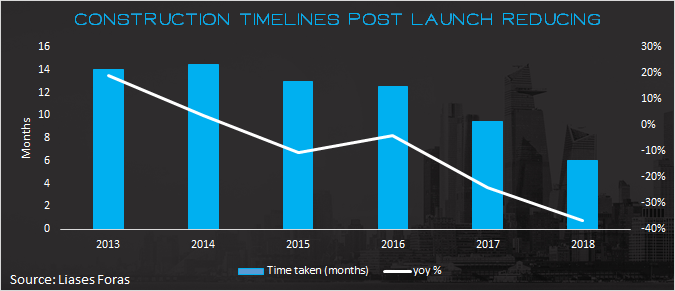 Amongst many other shifts that the pandemic brought, digitization of services has been a significant one. As per reports, 60% of the entire property buying process is now being conducted online vs 39% pre-Covid period.
Anuj Puri, Chairman, ANAROCK Group says, "From property search to documentation and legal advice to down payments, homebuyers are leveraging the new tidal wave of digital technology driving the Indian housing sector. Only developers with sufficient online presence will remain relevant going forward. Also, social media are among the most effective property marketing platforms at this stage."
For long, PropTech meant looking for property listings online instead of in the newspaper. But it is now going full-stack, offering everything from virtual reality tours and Vaastu consultations to moving services, as seen in the chart below –

Balance Sheets have strengthened
As larger developers continue to gain, the balance sheets too have seen substantial improvement over last few years which creates a virtuous environment for them in terms of cost of debt. This interest cost saving will make them even more competitive against unorganized players.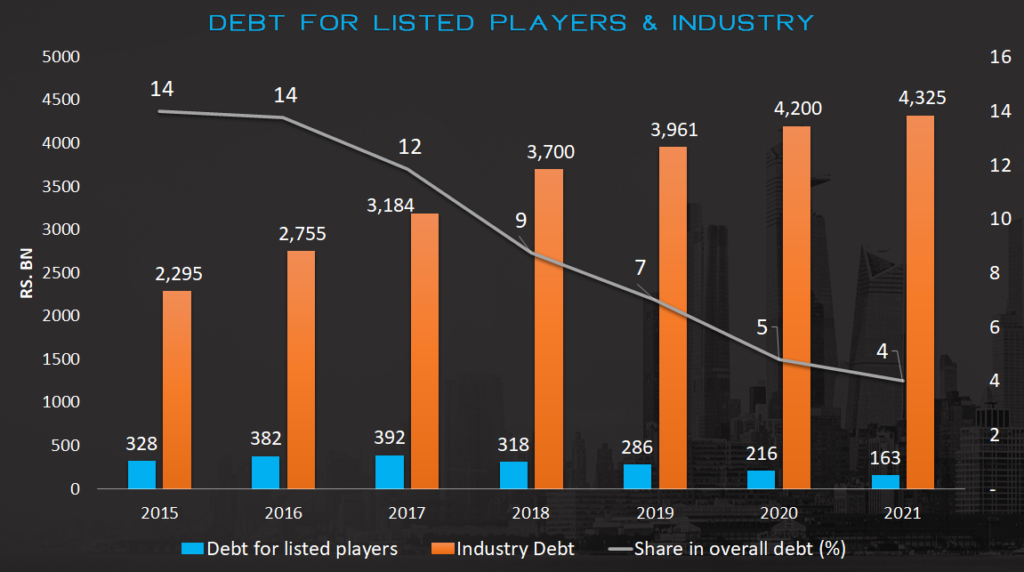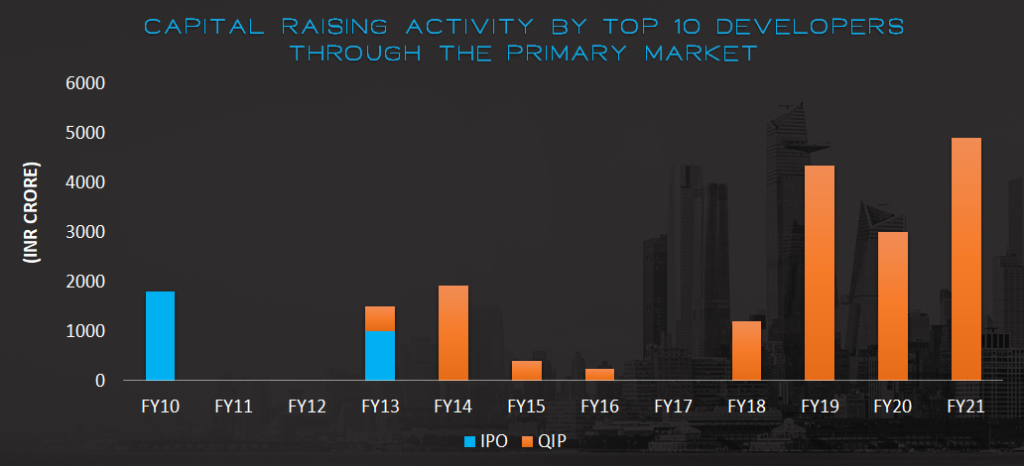 Valuations remain favourable
Compared to the importance that the sector holds for the economy, the weightage in indices and portfolios are insignificant (even after the recent rally).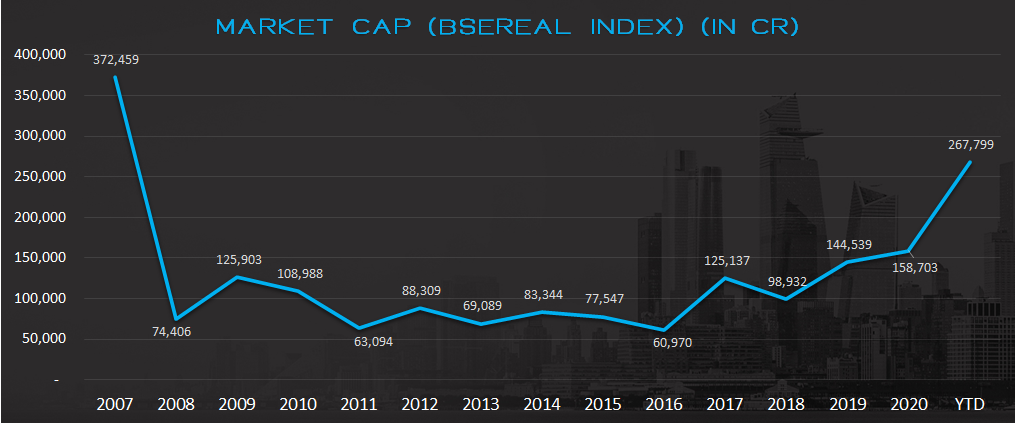 YTD numbers include Macrotech Developers which was listed on 19thApril,21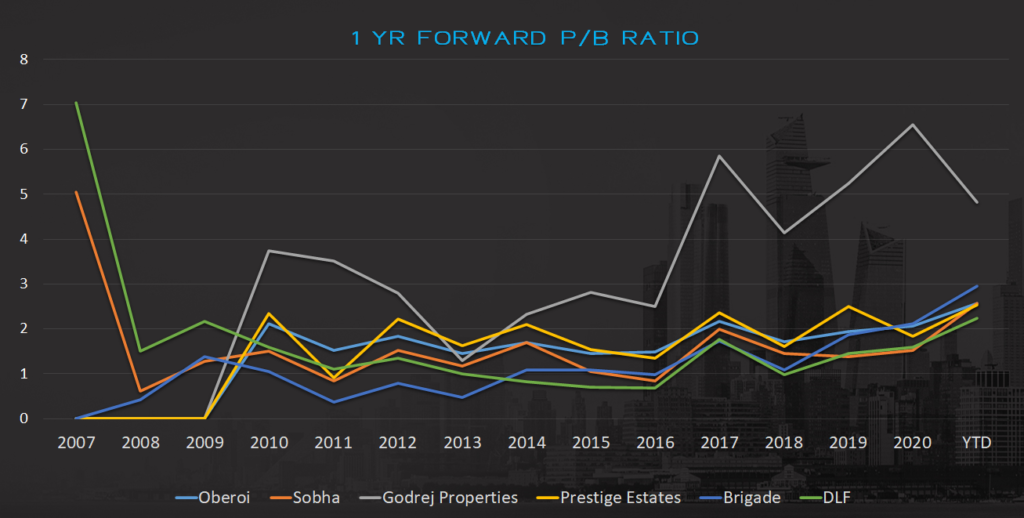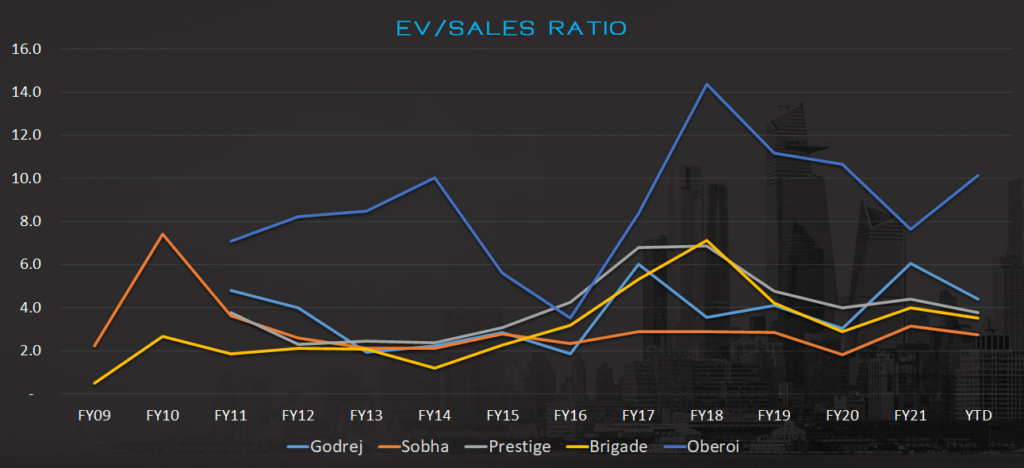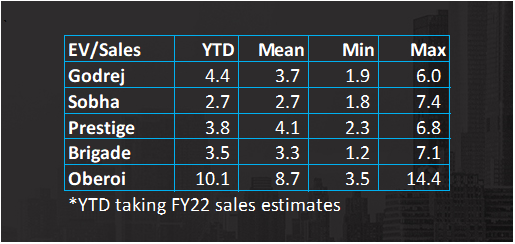 Valuations have moved from throwaway to reasonable but is not anywhere close to being buoyant.
Conclusion
We may never know where we're going, but we'd better have a good idea where we are. In assessing market cycles, knowing where we stand within them can help us tilt the odds in our favor" — Howard Marks, in his book "Mastering the Cycles".
Clearly Real Estate Cycle is Right Ahead of us.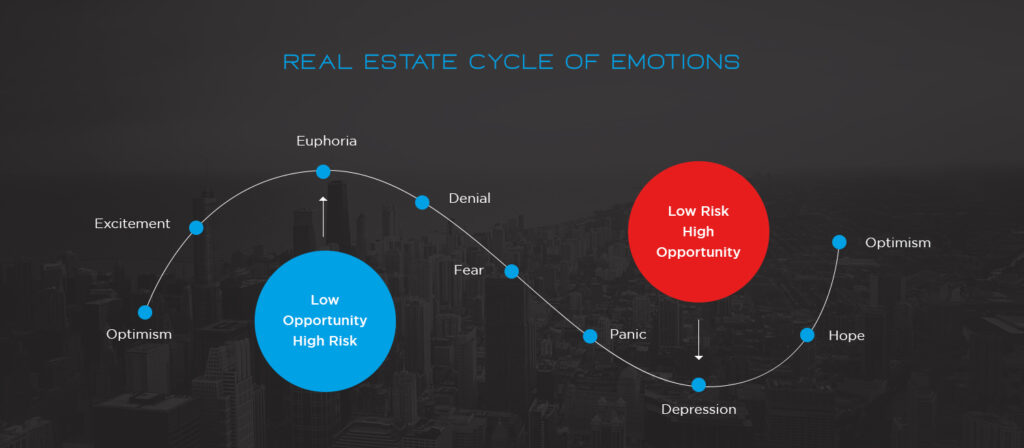 In a recent interaction, Mr. Abhishek Lodha said that he expects Macrotech to scale to 30,000 crs sales p.a. from current 7,000 crs by 2030. Some of the other data points also point out to similar optimism amongst the market participants. Industry is expected to grow from $180bn in FY20 to $1 trillion by end of this decade. This is a staggering number.

It is anticipated that the housing market is likely to attain a new peak by 2023. This optimism is reflected in the commentary about new launches by large builders.


We know that real estate cycles are long. The sector has witnessed and navigated economic slowdown, high interest rates, NBFC crisis and stricter regulations. We are now entering an exciting period of demand revival, improved regulations, transparency, and supportive macros.
Real estate and construction industry has significant linkages (both direct and indirect) with nearly 300 sectors like cement, steel, paints, and building hardware which not only contribute to capital formation and generation of employment and income opportunities, but also catalyze and stimulate economic growth. Hence, the revival holds significant importance not only for sector but the economy as well.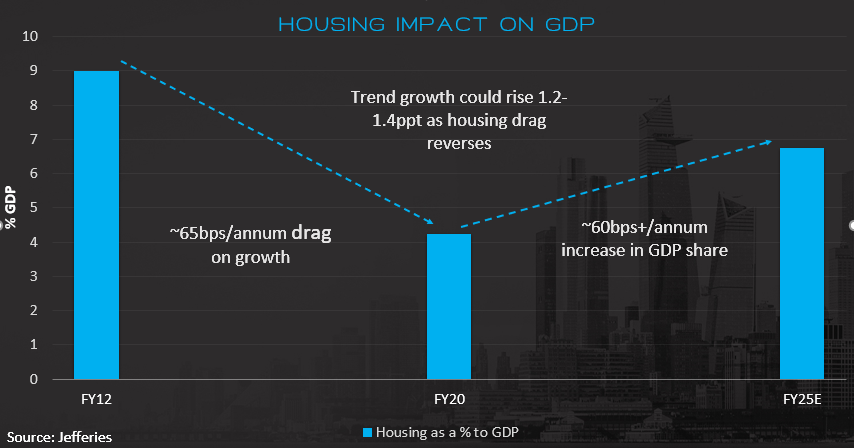 This lays the foundation for a multi-year growth journey for the sector. We believe we are in the initial phase of the upcycle. Just as one swallow does not make a summer, sighting the swallow, marks the end of long winter.